Czech Republic:
Long-term Residency through Business
If you are a business owner or entrepreneur keen to kick start your company activities in the EU market – consider the Czech Republic as an option worth giving some serious consideration to.  
Having joined the EU in 2004, this country offers a stable and welcoming home to foreign investors, but like most places in Europe, you need local knowledge to make the most of the opportunities here, whether you are interested in opening a branch of your existing overseas company, or starting a brand new enterprise. 
After registering an SRO company, the Czech equivalent of a Limited Liability Company, there is a route available which allows non-EU nationals to apply for a business visa to enter the country, followed by a long-term residency application once you are living in the Czech Republic – enabling you to live there and grow your business activities. 
Czech SRO Company Requirements 
Total share capital to be at least CZK 200,000 (€7,000), with at least 50% paid up
Each shareholder to contribute minimum of CZK 20,000 (€700)
An individual may be a sole shareholder in no more than three SROs
A reserve fund from the profits should be built up to 10% of the registered capital.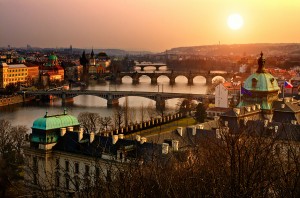 Applying for your Business Visa
A business visa enables you initial entry into the Czech Republic to begin running your business there and is valid for six months. To apply for your business visa you must be in your home country, and you will need to evidence that you have formed a Czech SRO company. You will also need to show that you can cover the living expenses for you and any family members, and that you have organised health insurance and a place to live: this can be rented or owned, however the embassy will ask for legal proof of address which most immigration agencies will provide as part of a service package. 
Entering the Czech Republic
 Now it's time to begin your new life as a Czech resident and business owner – and don't forget to register with the alien police within three days of your arrival.
Steps to Longer-term Status
Within three months of your business visa expiry (after three months of living in the Czech Republic), you can now apply for a long-term residency permit. This permit is valid for a year, but you are able to extend it on a yearly basis and, if you wish, apply for permanent residency after five years to secure settlement for yourself and your family.